The Transition from Dentures to Dental Implants
February 19,2021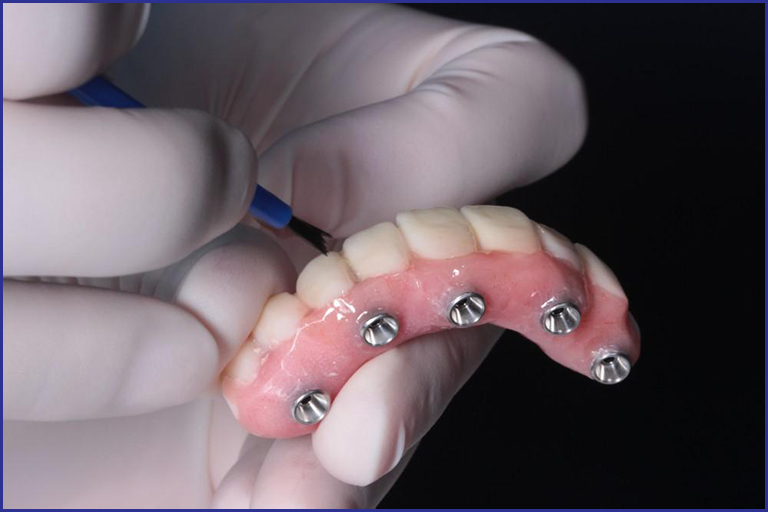 Are you embarrassed wearing your removable partial or full dentures in public?
Are you worried that they will snap out while you smile or talk?
Are you not able to chew and cherish your food properly?
Then it's time you visit us at Oris dental center to check on our wide range of dental implants in Dubai, that can help you wear comfortable fixed or removable dentures and smile with confidence.
Why do I need to consider the transition to implants?
Having fixed dentures with dental implants uplift your smile and give a wonderful outlook for the face.
Removable dentures do not preserve the bone, as they depend on mucosal tissues for their stability and function. But dental implants preserves bone due to Osseo-integration, keeping full functionality of the facial muscles, mucosal tissues and gives the best expressive smile.
The dental implants and implant supported dentures are more durable and long lasting, offer better bite forces and functionality in terms of chewing and grinding food, easier to clean, maintain and are affordable.
What are the type of implant overdentures offered?
Bone density and healthy jaws, with good oral hygiene makes the best fit for implants to take up well. If there is insufficient bone, our dental team will consider doing a bone graft and augmentation before surgical placement of implants. Few months will be required for Osseo-integration of the newly placed implants with your surrounding bone and tissues.Titanium/Titanium alloy implants or ceramic implants are the materials used generally. However the choice and type of material for implants are decided by the dentist to suit patient conditions.
Two implants supported over denture
When there is significant bone loss in the lower arch, the conventional dentures float causing discomfort to the patient. In such cases two implant supported over denture may come in handy at affordable prices. This is a very simple design overdenture, where two dental implants are surgically placed inside the mandible and the removable dentures are supported either by soft tissues of the mouth or by bar retained special extensions over the implants. These can snap fit over the implants or extensions. Removing and cleaning of dentures is required for maintaining them.
Full mouth dental implants (All on six dental implants fixed dentures)
This is an ideal treatment of choice for patients who are currently wearing fixed dentures or who has had complete tooth loss. Six implants are used to Osseo-integrate with the jaw bone, and a full mouth bridge is fixed to them. This is a much healthier option in terms of jaw bone preservation, keeping them healthy and strong. They are easier to maintain on the longer run and they keep the lips and cheeks well supported without a flabby look as in conventional dentures. However the process takes longer over several months, as it's important to allow a recovery period for all the implants to take up, before going on with the final fixed denture.
All on four dental implants
This technique allows patients to get implant supported prosthesis in very few dental appointments. This method involves surgical placement of 4 implants in four predetermined locations at specific angulations. It offers great stability and support to the prosthesis, without the need of bone grafting surgery. Final prosthesis can be made by different combinations of metal and acrylic resin with titanium framework, or metal and ceramic with titanium frame work and all ceramic zirconia crowns.
Oris specialises in immediate loading or same day implant, which comes in handy with the crown. It replaces the lost tooth and functions like a natural tooth in one visit. However it mainly depends on the health and bone density around it.
With so much of options and choices wide open to have a beautiful confident smile, what are you waiting for? Do visit us at Oris dental to check what suits you to the best.