Beautiful smiles for a lasting impression
November 05,2017
Smile is a wonderful expression of happiness for a person and for the people around him. When a tooth is missing or broken, it is very heart breaking and the person eventually forgets to smile. Such smiles can be restored beautifully when you visit a dentist office.
Missing teeth were being replaced by fixed dentures or partial dentures in earlier days. Although they are long lasting, they do have their own drawbacks and may require replacement over a period of 7 to 10 years' time. With more advanced dentistry now, implants play a major role in replacement of missing tooth.
Today, dental implants are paving their way for a comfortable life style for us. They are designed in such a way that they mimic the functions of the natural tooth very closely. They enable the patients to eat normally and speak clearly. Patients with dental implants get their smiles restored with confidence.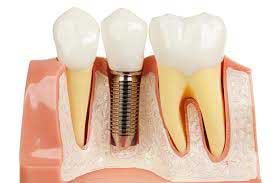 Implants are rendered by dentists who are well trained in implantalogy. An oral surgeon, prosthodontist and a periodontist together will form a good team to work on implants more precisely. It involves placing a pre designed, measured metal part inside the jaw bone and wait for bone to remodel and form a good support around it. Once the bone augmentation is satisfactorily completed, the counterpart or the crown abutment is fixed to it. That helps to perform normal functions of a tooth. The probable working time varies from 3 – 6 months. Immediate implants can also be done following extraction of a tooth, and this has to be decided by your dentist after careful assessment.
Multiple teeth replacement by implants, will require major part of the work to be done by the oral surgeons. They may look out for bone grafts to be done, where there is insufficient bone density. Bone grafts are also used to treat bone loss due to accidents and injuries or birth defects.
Gone are the days when patients wear full removable or partial dentures in their edentulous mouth. Multiple implant replacements help them have dentures fixed to their bones and function normally. This is very rewarding to the patient, because it overcomes the embarrassing situations of removing and cleaning their dentures on and off their use in public places. Implants when taken care of properly, can last for a life time.
Dental implants are a very enriching experience for the patients to hold. They not only help them to restore their lost smiles but also ensures beautiful smiles for a lasting impression.