Do you know why our dentist prefers in-office teeth whitening
February 17,2022
Everyone around the world consider a beautiful bright smile as their best social asset. "Hollywood smiles" with "pearly white teeth" is the most sought after treatment now, next to other cosmetic procedures that adds beauty to the dentition. Teeth whitening procedures are more common in Dubai because almost fifty percent of the population reach out to dentists looking for a bright white smile.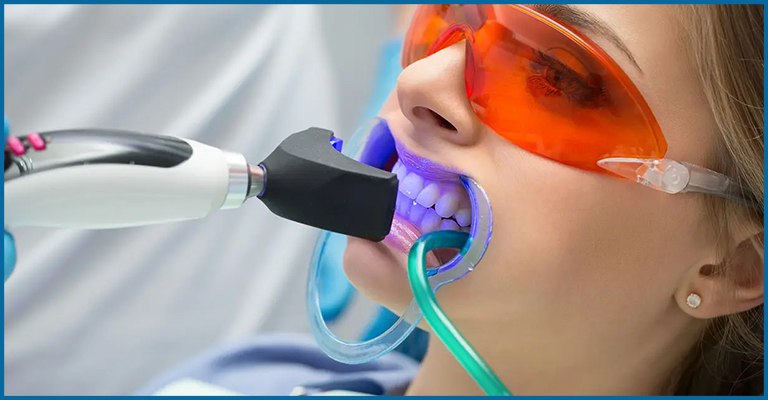 Teeth whitening procedures can be done both at in-office and at home with over the counter treatments. The main reason why patients look out for teeth whitening procedures is because of staining or discolouration of teeth. External stains can be caused by foods, carbonated drinks,coffee, tea, smoking or tobacco usage. Internal stains of teeth affecting the enamel and dentin can be caused because of tooth decay, certain drugs like antibiotics and tetracycline's, root canal problems, developmental issues and high levels of fluoride in childhood causing fluorosis.
What is in-office teeth whitening procedure?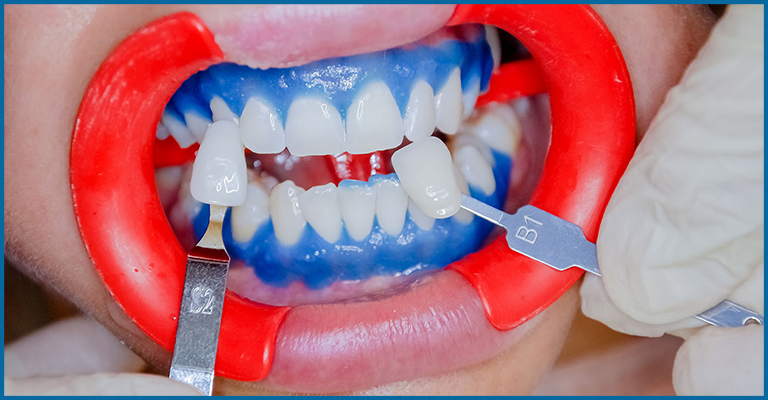 In office teeth whitening procedure consists of small split up sessions over a period of an hour. During the procedure the soft tissues such as gums, lips and areas other than teeth are well isolated and covered, so as to prevent burning of tissues due to the whitening light. Following that, teeth whitening gel is applied on each tooth and light rays are concentrated to open the small pores inside the teeth. This helps to absorb the gel and bleach them. The gel is applied again after fifteen minutes to repeat the light emission intermittently.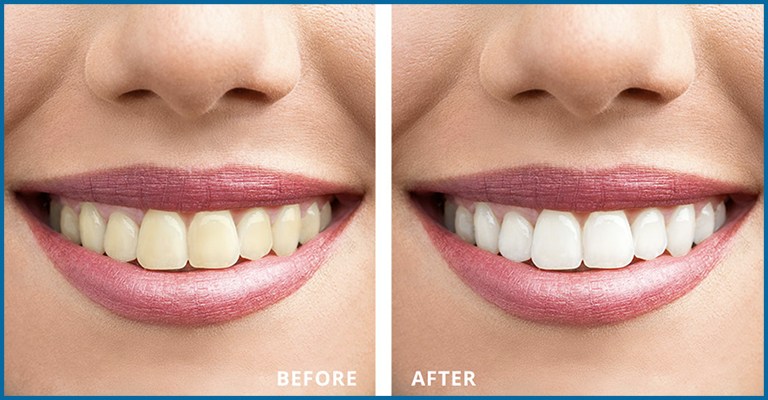 Advantages of Professional teeth whitening over home teeth whitening
Safety & Efficacy
Teeth whitening done at home, may not be as safe as done by our professional team at Oris. The usage of home custom made kits require proper understanding and follow up to achieve best results.
Treatment Plan prior to teeth whitening
At Oris  due care is taken to do all pre-treatment procedures like professional teeth cleaning, treating any decayed teeth, gum contouring etc., before doing the teeth whitening procedures. This will prevent any damage being caused to the soft and hard tissues following the whitening treatment.
Faster and Immediate results
In office treatments use a higher strength and concentration of whitening solution, when compared to home treatment. The FDA approved higher concentration solution are used by our dentists with appropriate isolation of soft tissues and monitoring, to achieve faster and immediate results.
In office treatment results can be seen in an hour or two, but home treatment or over the counter solutions take weeks before you see the results.
Number of visits is decided by our dentists
Our dental team recommends on restricting the number of in office visits to one or two per year, on individual basis pertaining to patient conditions. So unnecessary home interventions are avoided.
Temporary side effects are handled better
Teeth whitening works well only on tooth enamel. People with dentures, veneers, crowns and fillings are not ideal patients for it. Temporary side effects like gum and teeth sensitivity may be present. They are better addressed by in office procedures, than home treatments where improperly fitted trays and poor quality ingredients can worsen the conditions making the teeth more brittle and sensitive.
That's why our dentist in Dubai prefers in-office teeth whitening. So what are you waiting for? Do call us at Oris to get pearly white teeth and a Hollywood smile.